Posted May 3rd, 2006 by
Categories:
California
,
Mountains
,
Photos
,
Spring
,
Trees
Picture: Oak tree covered hills in spring below the snow covered peaks of the high Sierra, Tualre County, California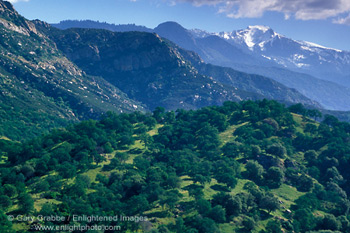 I shot this image on assignment for the Nature Conservancy.
We see image after image from the Eastern Sierra, showing the dramatic rise of the mountains. Rarely do we get to see that same feeling from the Western slope of the Sierra. This is primarily because of the long gently rolling slope of the foothills. In this case, I got to enjoy a nice trip onto private ranch lands. when we came to a ridgetop, there was this incredible view of the lush green foothills rising into the snowy peak in the distance. If I had my way, I would have loved to get this shot at sunset, but the assignment timing just didn't allow for that. On the other hand, I do like how the backlighting helps to show the very slight haze, giving us a clue to the depth and distance. In summer, there would be so much Central Valley haze stacked up against the western slope, you wouldn't be able to see the mountains at all. BTW – the mountains are in Sequoia National Park.