Posted April 7th, 2006 by
Categories:
Newsworthy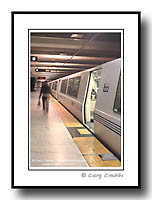 The National Press Photographers Association (NPPA) has reported a victory for photographers against New York City's Metropolitan Transit Authority. All it took was the threat of a potential lawsuit by the New York Civil Liberties Union. It seems a bunch of (insert: arrogant, paranoid) transit police have been harrassing photographers shooting on public property. They write in the story:
Catherine Rinaldi, general counsel and deputy executive director for MTA, conceded in a March letter to photographers that there is "no ban on photography in the Long Island Railroad or the Metro North Transit system." The concession came after NYCLU attorneys wrote to MTA demanding that they explain why MTA officers were threatening photographers with arrest for taking pictures in public areas of the transit system.
Read the entire story Here.