Posted November 20th, 2014 by
Categories:
Aerials
,
California
,
Fossil Beds
,
Outdoors
,
People
,
Photos
Picture: Tandem paragliders floating down past the moon, Tres Pinos, San Benito County, California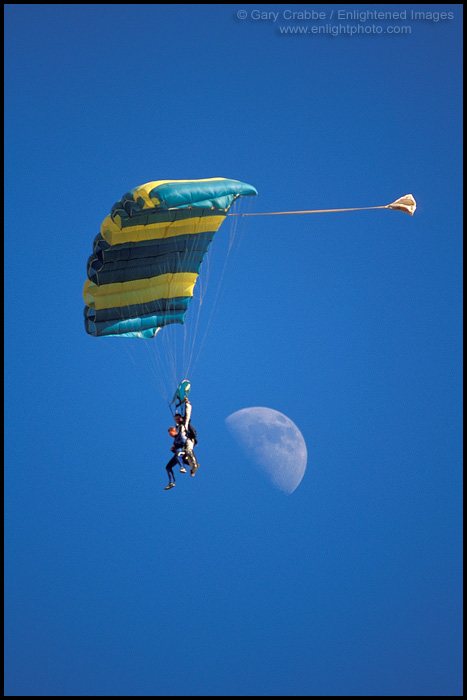 What can you learn about life and photography by jumping out of an airplane?
Last week I had an opportunity to jump out of a perfectly good airplane while flying at 13,000 feet over the Sacramento Valley. I hear some of you asking "Why would you do something like that?" For my 50th Birthday back in July, my wife bought us a certificate for a tandem jump from SkyDive Sacramento, which is located only 5 minutes from my sister-in-law's house. We planned our jump to coincide with attending a baby shower for my niece, knowing we could spend the night and do our jump early the next morning.
Now understand that I'm not a adrenaline junkie or overt thrill-seeker, but I find even the biggest roller coasters pretty tame after the second or third trip through. Jumping out of a plane was something I've certainly thought about, and while it wasn't on my #mustdo bucket list, my wife knew I'd be game for giving it a try.
Learning about Life: There is no doubt that contemplating jumping out of an airplane coincides with contemplating the possibility of death. In fact, our first minutes on site were signing legal contracts and watching a video wherein we acknowledge that nothing is perfect, nothing is guaranteed, and you are risking serious injury and even death by choosing to undertake this activity. They even say it again, … and again, just to make sure you understand what you're getting into: "You Could Die."
In the days leading up to the jump, I did Read the rest of this post »