Picture: Tandem paragliders floating down past the moon, Tres Pinos, San Benito County, California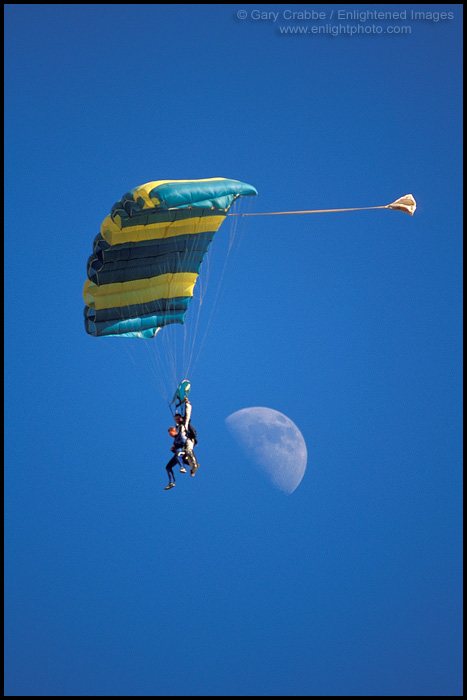 What can you learn about life and photography by jumping out of an airplane?
Last week I had an opportunity to jump out of a perfectly good airplane while flying at 13,000 feet over the Sacramento Valley. I hear some of you asking "Why would you do something like that?" For my 50th Birthday back in July, my wife bought us a certificate for a tandem jump from SkyDive Sacramento, which is located only 5 minutes from my sister-in-law's house. We planned our jump to coincide with attending a baby shower for my niece, knowing we could spend the night and do our jump early the next morning.
Now understand that I'm not a adrenaline junkie or overt thrill-seeker, but I find even the biggest roller coasters pretty tame after the second or third trip through. Jumping out of a plane was something I've certainly thought about, and while it wasn't on my #mustdo bucket list, my wife knew I'd be game for giving it a try.
Learning about Life: There is no doubt that contemplating jumping out of an airplane coincides with contemplating the possibility of death. In fact, our first minutes on site were signing legal contracts and watching a video wherein we acknowledge that nothing is perfect, nothing is guaranteed, and you are risking serious injury and even death by choosing to undertake this activity. They even say it again, … and again, just to make sure you understand what you're getting into: "You Could Die."
In the days leading up to the jump, I did think about this. It wasn't a scary thought. I just imagined that if that moment happened where I had no control and the earth was rushing up to meet me, I made a conscious decision that I would choose to go out with a smile on my face and no regrets. As the day neared and when talking with friends and family, between the jokes I made sure to say, just in case…what needed to be said; small expressions of love and thanks.
And isn't this really what we should be doing all the time, every time we step out the door of our house or say goodbye to someone? We never know when that last chance will be, and the truth is, we were in far more danger driving to the airport than jumping out of the plane. My instructor had more than 5,000 jumps under his belt, and my wife's had over 4,000. But in the contemplation breeds the awareness that we really should be more aware and present throughout each moment of life, and not just in those 'high-altitude' moments of extremes. While free-falling, you hear nothing but wind; loud, rushing, roaring wind. But when was the last time you listened to a quiet breeze rustling the leaves in your own backyard?
Then there's that moment when you're moving toward the door of the plane. You give a thumbs up, put your feet at the edge, and the next thing you know you're tumbling forward into the abyss of nothing. Talk about a mirror for the way we approach our path in life. Stepping up to the door and jumping out is like the considerations we make choosing fear or faith, moving forward into the unknown, or retreating back to the known and the safe.
Learning about Photography: Also in the weeks leading up to my jump, I thought long and hard about what kind of photography I would like to do to document this momentous, and possibly singular life event. I brought my GoPro and my little Sony RX100-m3 with me, having pre-visualized taking shots of getting ready, take-off, the flight up to altitude, moving to the door, etc., including my ideal shot of tumbling out of the door backwards watching the plane zip away from me as I fell toward earth. It's the same sort of planning or shot list any wedding photographer or other assignment photographers would create; pre-visualize, rank in terms of importance, and then reverse engineer the logistics needed to pull off the envisioned shot(s).
The morning of our jump, my first question was answered with a definitive "No Personal Cameras Allowed." I was told that a person would need to have made a minimum of 200 jumps before you'd be allowed to bring and use your own camera. Although I was immediately disappointed, I also understood the reasoning. Jumpers are schooled and licensed, and there's a lot of stuff that comes into play while your plummeting at terminal velocity toward an unforgiving ground. You definitely don't want to muck things up while fiddling with changing settings on your camera. Not to mention, the taking of photos and video for their clients is nearly as big a part of their business model as the actual jumping aspect. (Relate the opposite idea of how wedding photographers can't control all the other people taking photos during a reception.)
As photographers, we're always looking to document what we're seeing and experiencing. We also need to be flexible and learn to adapt quickly to changing situations and circumstances if we're going to get the shot. In this case, I was like the proverbial wedding photographer who shows up to his own wedding. If you can't be in two places at once, or something is beyond your control, you can pay for or partner with someone who may be able to get the shots you want. If you want more coverage than what a single photographer is capable of getting, like extra coverage at a wedding, then hiring a second shooter or setting up remote cameras becomes your next most viable option.
Understand that there will be times when the best approach will be to simply step back, turn yourself off 'Photographer Mode' and just become an active participant or observer in whatever the experience du jour might be. It's like being a passionate landscape photographer watching a magnificent sunset over the ocean while sitting inside a coastal restaurant having an anniversary dinner. (Trust me when I say that's a good moment to leave your 'Photographer Mode' button set to "Off.")
In the skydive case, we paid for the photography, which was my instructor carrying a twin GoPro setup; one camera that would shoot video, while the other took straight jpegs shots at a one second interval.
Since I could tell everything was 'all business' with these guys, (as it should be When Death is on the Line) I didn't even bother asking if we could jump out of the plane backwards so I could get that great perspective of leaving and falling away from the plane. As my instructor told me, "I'm going for a skydive, and you're just coming along for the ride." But I will say that my instructor did get one great shot (a single frame) with the airplane zipping away from us in the background.
But unfortunately, as we all know with photography: "Composition Counts." When I first saw this shot, the thing that flashed through my mind was the polaroid shot of the geek in the back of the Rolls Royce with the prom queen from the classic 1980's coming of age movie, Sixteen Candles. As much as I want to like this shot, by happenstance of the composition, I, like the prom queen, am not part of the shot, therefore not part of the story. It's still a great shot, but it says nothing about my experience. As photographers, it's our job to put every important part of your story in the frame if you want to come away with a truly exceptional or communicative shot.
So, how was it you ask?
I will say this: I wasn't scared at all. Not even a bit. I think I must have an adrenal problem. I was relaxed, enjoying myself, and ready for the moment. The memory I'll carry with me for the rest of my life is that moment at the plane's door, when your vertical, to the moment you're tipping forward out the plane to horizontal. Once you're out the door, you don't really feel like you're falling. You hear and feel the roar of the wind like being in a wind tunnel. But the moment you're out the door, your brain kicks in and you remember you have things to do. (That's why they call the guy you're attached to an instructor; Head back, legs back, arms out.) On the actual decent, both in free fall and post-chute deployment, I basically just enjoyed the view. When I got back to the ground, I wasn't overly giddy or buzzing with excitement the way I saw other participants afterwards. Instead, I felt like I just got off a good roller coaster ride. "That was fun. Thanks." Don't get me wrong, it was thrilling, but just not in any kind of adrenaline-soaked 'that-was-so-scary' kind of fashion.
Other than the life perspective lessons leading up to the jump, what was my takeaway lesson after the fact? Well, I've determined that to really get my thrill juices flowing, I need to find someone who owns an f-18 fighter jet, and is willing to give me a joy ride at full throttle, low to the ground while hugging turns in a mountain range. Would I skydive again? Certainly, but if I could, I'd prefer to do it as a HALO jump (High Altitude Low Opening) from 45,000 feet. Anyone got any connections?
—


If you like this post , I would greatly appreciate it if you'd consider sharing this with your friends using one of the Social Media sharing buttons located at the top of this post. You can also sign up to receive free updates by email when future posts are made to this blog.
—
—

Gary Crabbe is an award-winning commercial and editorial outdoor travel photographer and author based out of the San Francisco Bay Area, California. He has seven published books on California to his credit, including "Photographing California; v1-North", which won the prestigious 2013 IBPA Benjamin Franklin Gold Medal award as Best Regional title. His client and publication credits include the National Geographic Society, the New York Times, Forbes Magazine, TIME, The North Face, Subaru, L.L. Bean, Victoria's Secret, Sunset Magazine, The Nature Conservancy, and many more. Gary is also a photography instructor and consultant, offering both public and private photo workshops. He also works occasionally a professional freelance Photo Editor.
Comment
on this post:
Copyright info
for using or linking to the pictures.