Picture: Mount Rainier reflected in Reflection Pond, Mount Rainier National Park, Washington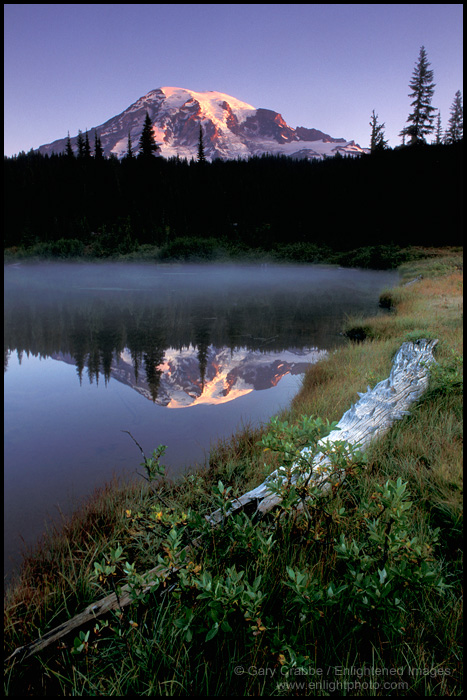 CATCHING UP: As I mentioned in a blog post few weeks ago, I've been spending a lot of time recently adding images to my image library. In fact, since wrapping up my last book, Photographing California; vol. 1 – North, I've added nearly a thousand new images into my stock collection, with about another thousand still in the production queue. Why so many? Even though I've stepped away from doing book production and active stock photography, and despite the radical (and downward) change in the stock photo industry, having my image library as complete as possible is still an important consideration when dealing with both print and publishing clients. Back in the days of film, if a client wanted to see an image, you just dug through your collection of original or duplicate slides, and you sent them by FEDEX to the person that wanted to see what you had. Today, in the digital and internet era, fast delivery of images to clients is still important, and having your images ready to go at a moments notice means they still need to processed, cleaned, captioned, & if in a searchable database, keyworded.
MOVING ON: One thing that I constantly think back on from my time spent working with and managing the image library of famed adventure photographer Galen Rowell was coming across a huge box of slides underneath a desk in his office which was filled with photos taken on one of his numerous trips through Pakistan. When looking through all the slides, which must have been around 1,000 frames, I was stunned and perplexed by how many great images there were, yet Galen had never edited them for inclusion into his collection. And there in a box all those images sat… in the dark… unseen by anyone for more than 10 years. When I asked him why they never got edited, his simple reply was accompanied by a slight sigh and shrug of the shoulders. "I just got too busy with other stuff and never got around to it," he said.
That's now how I've come to accept the never-ending backlog, and just accept that continually moving on is just how it is. Take this image of Mount Rainier (above); it was one of the first really good images I shot that ever got added to a portfolio collection. This image is now more than 20 years old, taken on my only visit to Mount Rainier. (Something I hope to soon rectify.) And while I got many nice images on that trip… I wasn't a photographer, and wasn't planning on being a photographer at the time when I took this photo. When I did get around to selling my own images, this shot was almost a decade old already. And all those frames have sat quietly in a slide file drawer… in the dark… unseen by anyone. At a time now when my current camera is 36Mp, the idea of going back and scanning old slide images creates an internal tug of war; scan the slide and have the image available to show, or just sigh, shrug, and say, "To heck with it; it's simply not worth the time or effort." Maybe it's time to simply move on, and abandon these images for what seems like an eternal rest in a dark crypt. But seriously… what good is a photo if no one will ever see it?
Picture: Mount Rainier from Sunrise, Mount Rainier National Park, Washington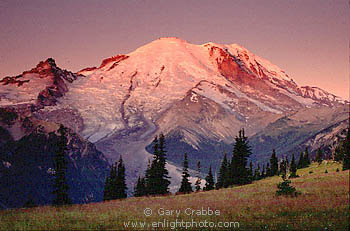 TURNING OFF: And in the midst of all this Catching Up and Moving On, I'm not dropping out, but I am (kinda) turning off. Computers and Social Media are just regular aspects of day to day business these days, but every so often, I really enjoy just turning off the technology. I don't ever want to be one of those people that goes into an anxiety attack if they can't access the internet, email, or Social Media sites… or worst of all, being unable to sit through a meal without checking a phone. For the next few weeks I'll be hanging with the family, and experiencing a lull in access to the internet.
When I come back ON, I'll hopefully have some new images to share, some exciting product reviews, some workshop announcements, and hopefully taking some footsteps into some new adventures. For most all of this, the best place to keep informed is by following this blog, or subscribe to my newsletter.
In the meantime, probably the best place to keep up with me will be on my Enlightened Images Facebook Business page, which is mostly because it will be quick and easy during my limited periods of internet activity.

—
Comment
on this post:
Copyright info
for using or linking to the pictures.