Picture: Striated sandstone reflected in seasonal pool of water at The Wave, Coyote Buttes, Paria Canyon Vermilion Cliffs Wilderness, Arizona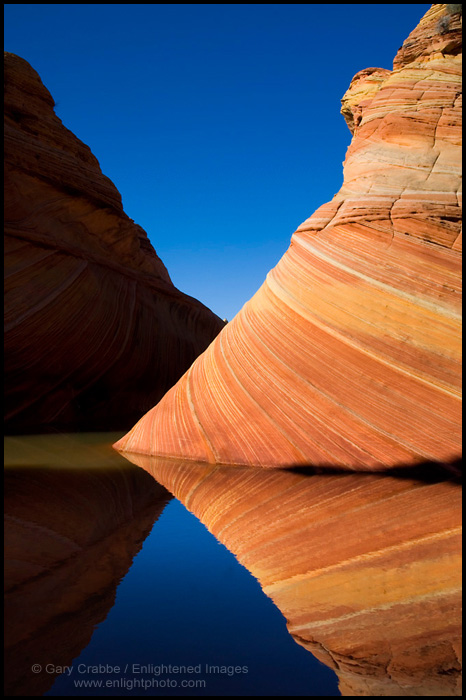 I'm delighted to announce that my photography as been included in a feature article in the current issue of Extraordinary Vision Magazine. Called the definitive outdoor digital photography magazine, this e-pub is a dedicated ipad exclusive, so you'll need one of those devices to access the publication. If you own an ipad, you can download a free copy of the e-mag. through the iTunes store.
My article, which stems from an interview conducted by publisher Angelo Loanides, and deals with personal vision and creating dramatic landscape photos. I hope you ipad owners out there will enjoy the article and publication. And be sure to tell your ipad-owning friends about this great e-mag as well.
This also makes a good follow-up on my last post, which dealt with photographers flocking into now crowded iconic locations, all seemingly chasing the same photo. The location where this image was taken is an extremely fragile, remote location, and the area is equally extremely limited in terms of the access that visitors are granted. Only a small number of permits are handed out on a daily basis, and most of those are reserved well in advance via a lottery system. While many photographers seek out a few of the known and 'popular' photo compositions, one being The Second Wave, this small area offers a great challenge and many opportunities for photographers who are looking to break the mold, and bring home something more than the standard postcard compositions. I have a few of those standard compositions myself, but by far, my favorite is the image above, which to me represents a unique personal vision of a very special place.
Comment
on this post:
Copyright info
for using or linking to the pictures.