Picture: Last light over the Sierra from the summit of Clouds Rest, Yosemite National Park, California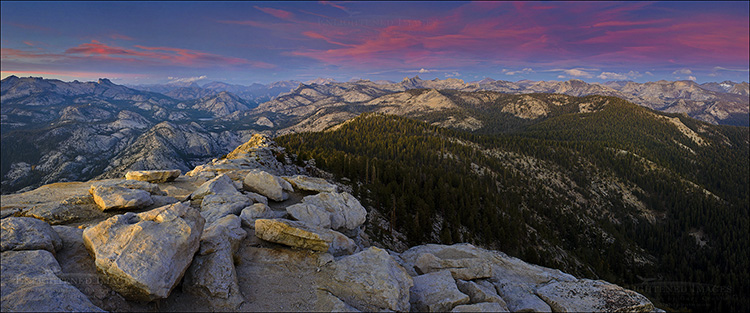 I made a quick announcement about this on a few of the social media sites, but I want to make it official by announcing it here on my weblog. I've just uploaded my second Premier Gallery Collection, this time a collection of Panoramic Format Images, more simply known as Panoramas.
Since this is a new collection, I thought I'd celebrate by offering people a chance to order any of these images at 25% off discount from the print-only, Canvas Wrap, or Metallic Print options. (Unfortunately the additional cost for Gatorfoam or Masonite Mounting options for mural prints are not discounted.) If you would like to order an image, please be sure to note that pricing is based on the long dimension, and the short dimension will vary proportionately.
If you decide you'd like to share the gallery or any of these images with your friends or social circles, you can just use the Tweet / G+ / FB buttons located below the gallery thumbnails or the larger image versions. You can also share this blog post by clicking the same buttons located near the top of this post.
I hope you enjoy viewing these images as much as I enjoyed making them.
Cheers,
– Gary.
PS: If you'd like to see my other Premier Image Gallery, you'll find it filled with images from Yosemite National Park.

—
Image ID#: 111024b_YOScr-0174-p
Click here for Information & Pricing on larger paper, canvas, or metallic prints, incl. matted & framed prints. For complete purchase options, please contact me directly.
Comment
on this post:
Copyright info
for using or linking to the pictures.