Picture: Woman looking at a photographic art display (Photos by Garry Winogrand) at the Pier 24 Gallery in San Francisco, California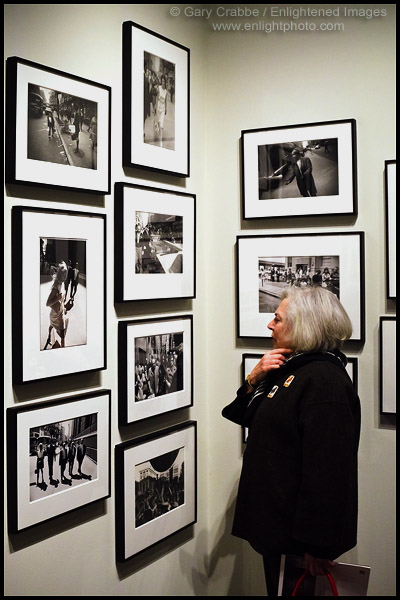 I had a great chance to start off the new year by doing what I love most, (when I'm not taking pictures) namely looking at other people's photos. I had a chance to visit the Pier 24 Gallery in San Francisco with fellow Bay Area photographers Jim Goldstein and David Sanger. The gallery is open by advance appointment only. You get two hours to see a labyrinthal collection of rooms housing photos by the likes of Walker Evans, Man Ray, Alfred Stieglitz, Lee Friedlander, Robert Frank, and numerous others. Simply put, two hours is nowhere near enough time to really spend quality time looking at each image, because there's just too many good images.
This images raises the age-old question, "What is it about Art that we respond to, and why do we like some Art but not others?" Where do you think that invisible line comes from that tilts us toward "Wow, that's great!" or "Geez, I just don't get it"-type responses when we see through the eyes of another human being?
I'd love to hear your thoughts and answers.
PS: Happy New Year to everyone.
Comment
on this post:
Copyright info
for using or linking to the pictures.